Jimmy Bannos Jr. of The Purple Pig
An exclusive eskca interview with Jimmy Bannos Jr. (owner and executive chef) of The Purple Pig, which was honored in our:
Tell us your origin story. How did you come to be involved with The Purple Pig?
Twelve years ago, I was living and cooking in NYC, where I gained experience working for world renowned chefs and entrepreneurs. Upon returning to Chicago, where my family and roots are, I had the opportunity to be the chef at a new wine bar concept that my father and business partners were developing, in the heart of Michigan Avenue. I eagerly took on the challenge as the Executive Chef of The Purple Pig, Chicago.
What were the biggest hurdles you encountered in your journey?
At the beginning of this new business venture, everything felt like a big hurdle because besides cooking, each aspect of the business was new to me. It was no longer just about cooking. It was also about creating an extensive food and beverage menu that cohesively worked together, creating business systems, cultivating a team, and building relationships with customers (many who would turn out to be life-long guests of the restaurant). Today, the biggest hurdle is surviving through the pandemic which has severely impacted the restaurant industry. The positive through these recent challenges is that our team has had a "reset" on business management tactics and with that, the synergy between our entire team has been electric and the epitome of "teamwork". We are getting through this together and having weathered a challenging "storm" in 2020, we are looking forward to the rainbow ahead.
What does the future hold for you and The Purple Pig?
The Purple Pig is currently anniversarying our second year at our new, bigger location (444 N. Michigan Avenue, Chicago, 60611). Since we feel like we lost most of last year due to the pandemic, we believe that there is still more potential and growth opportunity in this newer space. We are privileged to have a great partnership with our landlord, Golub & Company, who has suggested the possibility of developing a patio space for outdoor dining, which would be very exciting for us in the future. Most important to note is that with the growth of our staff and this new outlook on life and business in 2021 and beyond, our team has flourished and been empowered in their roles. While I remain at the forefront of the kitchen and all aspects of the business, we recently announced promotions within the team naming: Efrain Medrano (Executive Chef), Erik Petrucci (General Manager), Jessica Rodriguez (Assistant General Manager) and Nicholas Berggren (Director of Operations/Beverage Director). Seeing them flourish in their roles shows that our future together is bright. You had asked me to supply a headshot for this series of interview questions. Because there is no "I" in teamwork, it only seems fitting that instead of just supplying a photo of myself, that we include the many people at our restaurant who work hard with me to make it what it is today: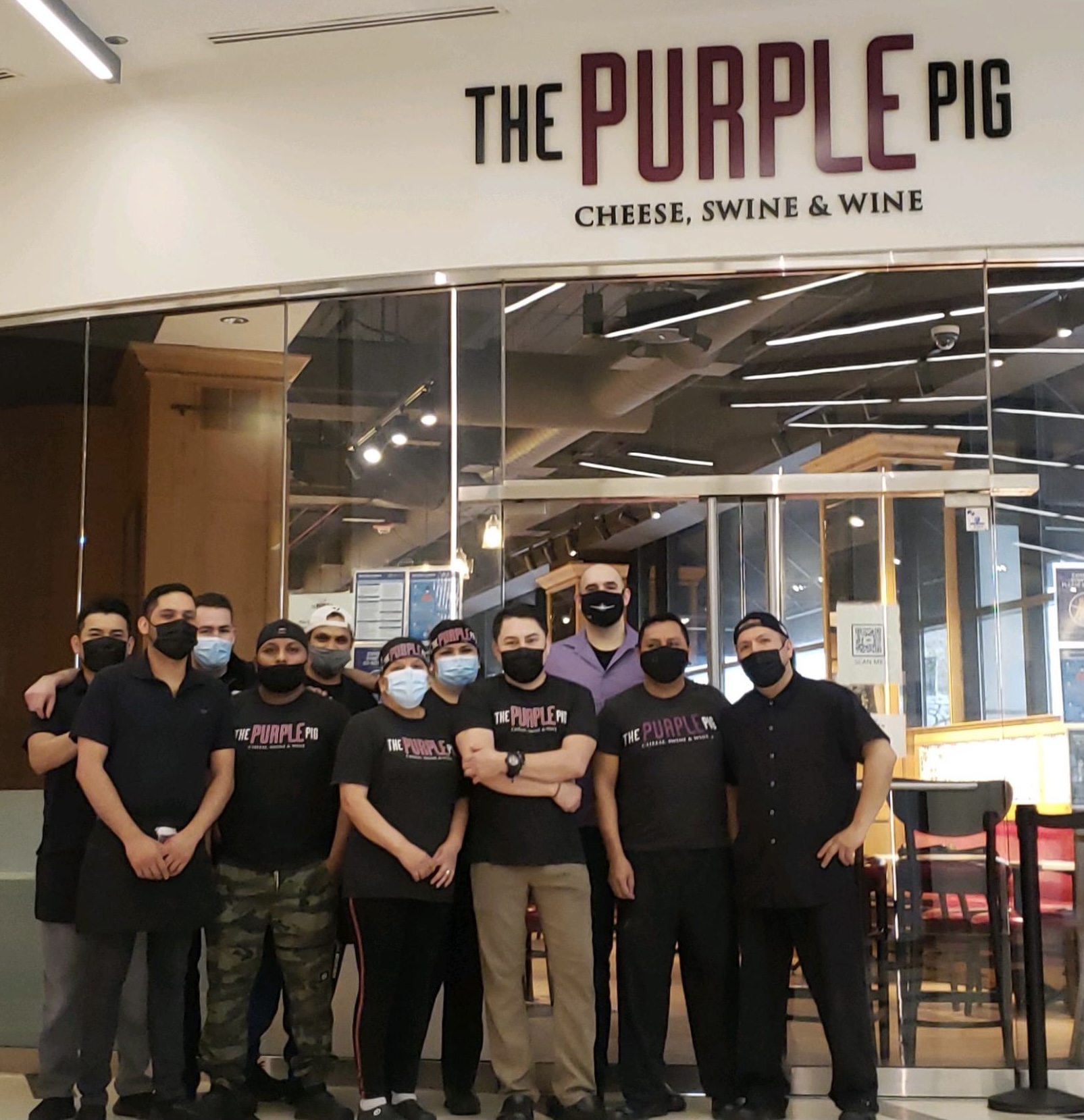 What are your thoughts on the food scene in Chicago?
The food scene in Chicago is incredibly dynamic. I greatly appreciate the diverse talent of chefs in this amazing city. Now that life is beginning to open up again, I look forward to dining at their restaurants, trying new places and supporting their success.
What's your best advice for aspiring restaurateurs?
My best advice for aspiring restaurateurs is to make sure that wherever you are living, find a great group to work for and experience different aspects of the restaurant so that you are well-rounded as an entrepreneur. Hopefully along the way with hard work, you will find mentors to teach you the ins/outs of the kitchen and overall business strategies.
Our readers love recommendations! What's your favorite dish at The Purple Pig?
My favorite dish at The Purple Pig has been and always will be the "Crispy Pig's Ears". It sounds unusual to many but is incredibly tasty. At the time of opening the restaurant, there were very few places serving pig's ears and they were mostly applied as a garnish. In our version, the ears are the star on the plate and I love that it's popularity remains high still to this day.